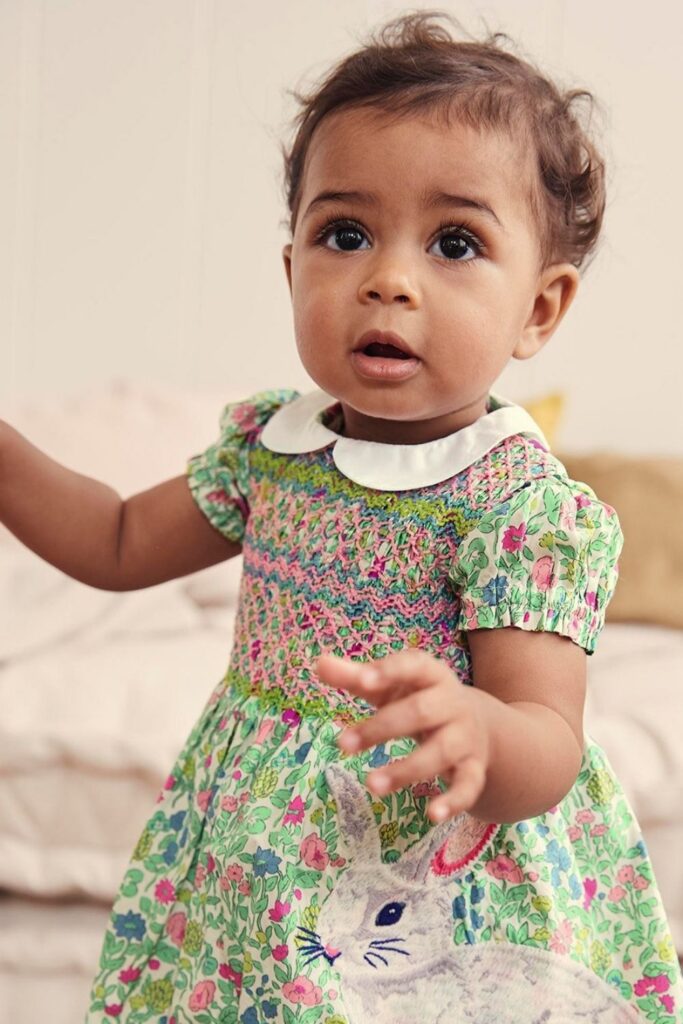 Eco-friendly baby clothes for girls combine the unique style of an independent baby clothes boutique with the natural benefits of eco fabrics. While it may be difficult to find stylish organic baby clothes in stores, there are a number of great online resources for buying unique baby girls clothes that will reduce your little one's carbon footprint before they even begin walking on their own two feet.
The Eco Benefits of Buying Organic Baby Clothes
Making the effort to purchase baby girls clothes made from eco fabrics rather than conventional cotton and synthetic materials is a simple way to start a child off with earth-friendly habits. The textile industry is responsible for a massive portion of greenhouse gas emissions and worldwide water use due to inefficient growing and production methods. Buying eco-friendly baby clothes as much as possible will lessen the impact of clothing on the environment and encourage the growth of the green fabrics sector of the textile industry.
As clothing made from organic cotton, hemp, bamboo, and flax tends to be much more durable than conventional clothing, choosing eco baby clothes is also a way to save money and resources in the long term. Use these long-lasting clothes for a second child, or donate them.
Perhaps most importantly, the sensitive skin of an infant is clothed in chemical-free materials when only eco fabrics are used. Conventional cotton is grown with chemical pesticides and fertilizers, and is then manufactured with more chemicals. Synthetic fibers are created and manufactured with chemicals, also, many such as nylon and polyester are petroleum based.
Eco-Friendly Boutique for Baby Girls Clothes — Pur Bebe
If looking for a great selection of eco clothes for baby girls try Pur Bebe. All items are not only 100% organic cotton or bamboo, but their production is screened for fair labor standards. They sell unique, natural-looking tees, bodysuits, and dresses, bamboo beanie hats for under ten dollars, and colorful soy fiber socks. The online boutique also has a selection of natural bath and body products for eco babies.
Bamboo Baby Clothes
Looking for bamboo baby girls clothes? Baby Bambu is an online boutique selling children's clothing made from bamboo fibers. What is so great about this eco fabric? It is naturally antibacterial, more absorbent than cotton, hypoallergenic, and offers natural UV protection. They have beautiful kimono onesies in pale pink, blue, green, and cream, infant pants, sleeping gowns, and footsies.
Eco-Friendly Designer Baby Girls Clothes
Oscar and Belle has a line of designer baby girls clothes, bedding, and skin care products that are safe for both the environment and the children using them. Everything is certified organic by SKAL or Oeko Tex. All fabrics are grown and produced without synthetic fertilizers and pesticides or manufacturing chemicals. Items are not only environmentally-conscious but socially-conscious as well, as the well-being of the organic farmers and fair trade sewers is a priority for this baby clothes boutique. The style is unique and classic, with items such as a natural fold over organic day skirt, a light blue knit wrap sweater, and a dual colored pleated party dress with satin ribbon.
All of these eco-friendly online boutiques provide wonderful clothing options and gifts for baby girls. Styles are unique, classic, and natural. Materials are soft, chemical-free, and durable. Reduce a child's carbon footprint with green baby girls clothes.