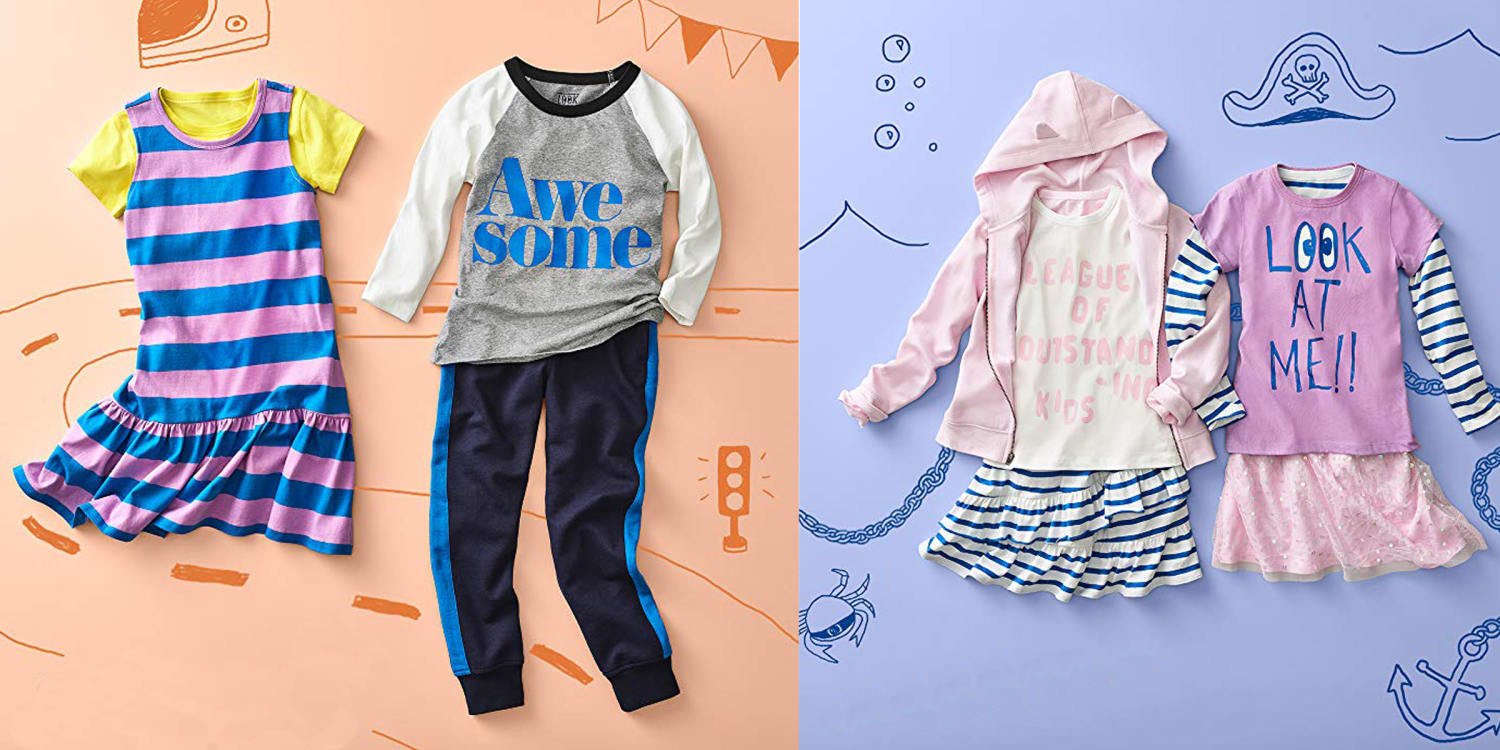 Crew has finally launched a children's clothing line, Crewcuts. Available in 42 stores across the United States (see website for store locations), many will turn to Internet shopping to fulfill their Crewcuts needs.
The clothes really are mini versions of J. Crew classics – the casual, beachy vibe translates well into the pieces for girls and boys, ranging in sizes from XS to XXL (or generally 2 to 10).
Categories include shirts, pants, shorts, sweaters, outerwear, dresses and shoes.
Current offerings for girls are summer-inspired. For cardigans, there's fish print, a white sequined sweater and a yellow brushstroke print. There are many t-shirt options with map and surf prints on the front.
Notables include a neutral-colored "fisherman' peacoat for $58.00 – cozy looking with big buttons. Popular madras print shows up in a short skirt, a halter-tied dress and a pair of bermuda shorts. (Crewcuts previously sold cute madras flats, but they don't seem to be available anymore.) Other bermuda shorts include a glittered pair and various colored chinos.
Their shoes are too cute – very similar to the adult J. Crew but in child sizes. The new arrivals include patent leather ballet flats ($98), bright-colored jellies ($30.50) and various T-strap sandals.
They also don't scrimp on bathing suits. A persimmon-colored ruffled seersucker bikini ($38) is fresh and girlie, while a black-and-white polka dot one-piece and a reef-print one-piece are retro and cool ($44.50 and $49.50, respectively.)
Accessories include headbands, pins, socks, bags, belts and necklaces. A patchwork madras tote is only $28 and very of-the-moment. The necklaces are nautical-inspired, featuring charms of fish, starfish and surfboards.
Don't forget to check the Sale page. Dresses are marked down $20 to $30 and there are T-shirts and other items with "2 for a discount" deals.
Boys' offerings include striped and printed T-shirts ($19.50 – $25), sweatshirts and button-down shirts. They'll look like mini-men in the blue short-sleeved Hawaiin shirt ($48) and bisque-colored denim jeans ($59.50). Other pants include lightweight linen pants and patchwork madras-print pants.
Crewcuts offers a large selection of shorts for boys, as well as sportcoats and vests. A black-and-white wide striped vest would look smart with jeans or black pants.
Accessories include hats and ties. The ties have sweet prints like whales, anchors, lighthouses and sharks, or boys can opt for patterns such as stripes or gingham.
The boys' shoe collections include flip flops (with a current deal of 30% off 2 or more pairs), suede and leather driving mocs ($70 to $90) and rainboots.