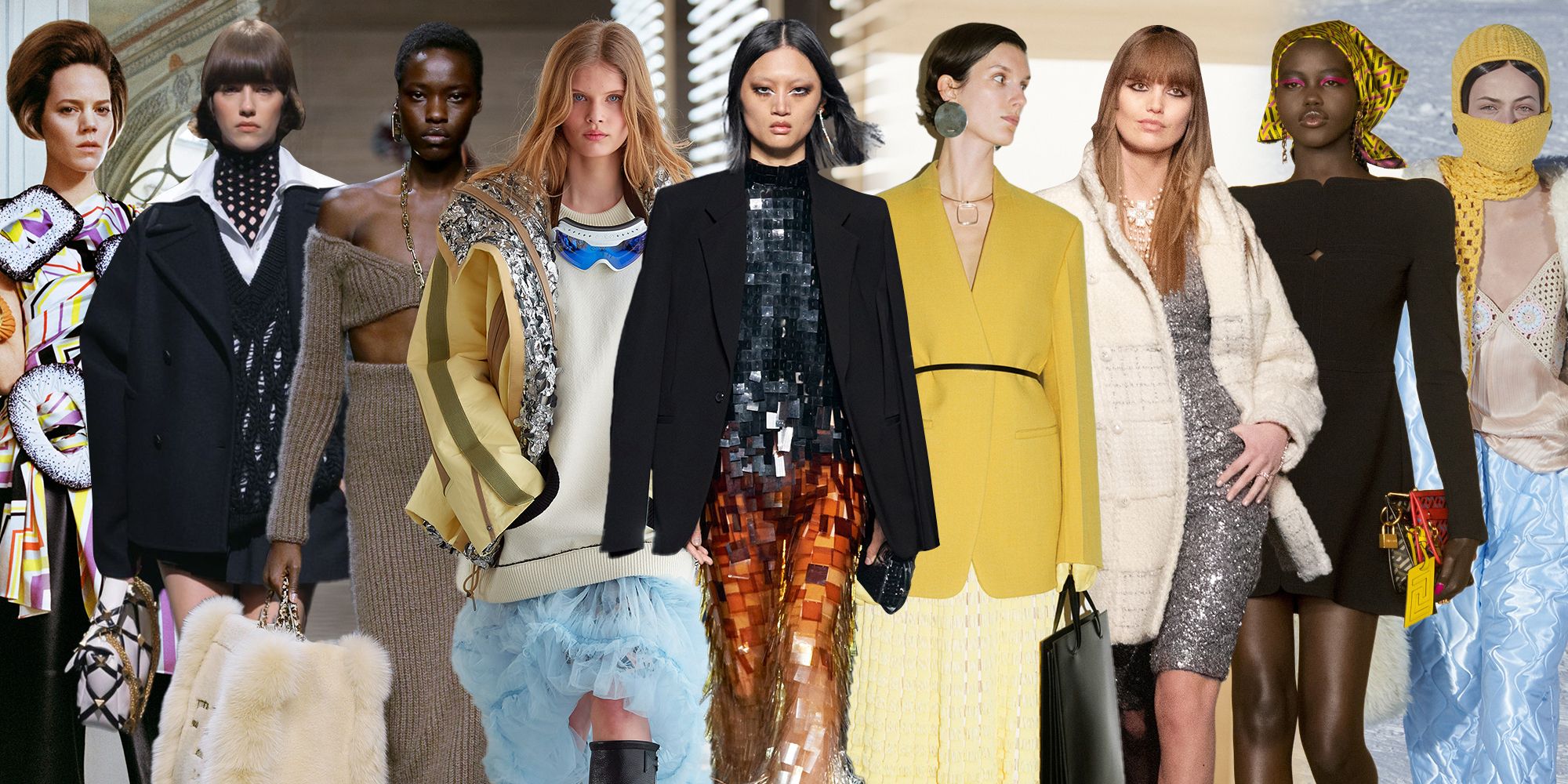 Dynasty-style bold shoulders, one-shoulder dresses, sculpted skirts, sequins, animal prints, plaids, leather jackets and sharp blazers will all continue to have their place this fall in commercial stores. There is also a move towards investment pieces amongst retailers, which give a nod rather than embrace, current runway trends.
Trend Predictions for Fall/Winter 2021
In Drapers, 9 May 2021, "Autumn Key Styles Identified by Doneger", David Wolfe of the New York trend agency, The Doneger Group, predicts that fashion retailers, in a bid to raise revenue, will concentrate more on essential items, like the little black dress, textured leather jackets and wide trousers with pleating.
Spring/summer's reemergence of the skirt (pencil and dirndl styles) will continue in the colder months (albeit in a more modest length) with a greater emphasis on separates. The boyfriend jacket will remain a firm favorite, along with 2021's current passion for black and all hues of blue.
Key Looks for Fall Winter 2021/2022
The German based European Trend Institute (ETI) have also come up with their four key looks for women for Fall and Winter 2021/2022. They have been categorized as Realistic, Sensitive, Magical and Expressive, as outlined by Fashionising.com.
Realistic
A combination of subtle neutrals and glossy metallic provide some urban chic. Silk and jersey provide femininity and large graphic patterns take on a more softer look. The statement necklace plays an important part with shiny metallics and varnished ornaments, providing art-deco influences.
Sensitive
Voluminous but cosy fabrics in warm and dusty tones. Outercoats take on a semi-transparent quality, along with hairy light flannels. Think rich velvets in soft pastels, and seductive lace.
Magical
Warm forest-inspired tones of brown and forest-green. Plaids and checks are given a modern twist with an ombre effect and prints redefine animal motifs.
Expressive
An eclectic mix of folk, neohippie and artsy prints in unusual cold/warm contrasts. Denims, tweeds and checks provide a splash of high color.
Fashion Accessories for Fall 2021
Flaboyant and attention grabbing statement necklaces continue to make and impact. There is also a return to (colorful) long-line gloves, and laidback luxe snoods are set to keep heads warm as toast this winter.
The omnipresent animal print continues to make its mark in high street stores, with an influx of leopard and zebra print ankle boots and clutch purses. Inspiration is being taken from high-end designers such as Diane Von Furstenberg's and Oscar de la Renta's Fall 2021 collection featuring a plethora of leopard spots in dresses and evening bags.
Key Investment Pieces fof Fall 2021
Fall 2021 for the savvy fashionista is all about buying into key investment pieces that are rich in the detail of the season. If there is one piece that represents the style-of-the moment it is the coat for all seasons — in suede, silk twill or flannel. When it comes to colors as fashion staples, black and navy provide one of the hottest mixes, along with versatile camel.