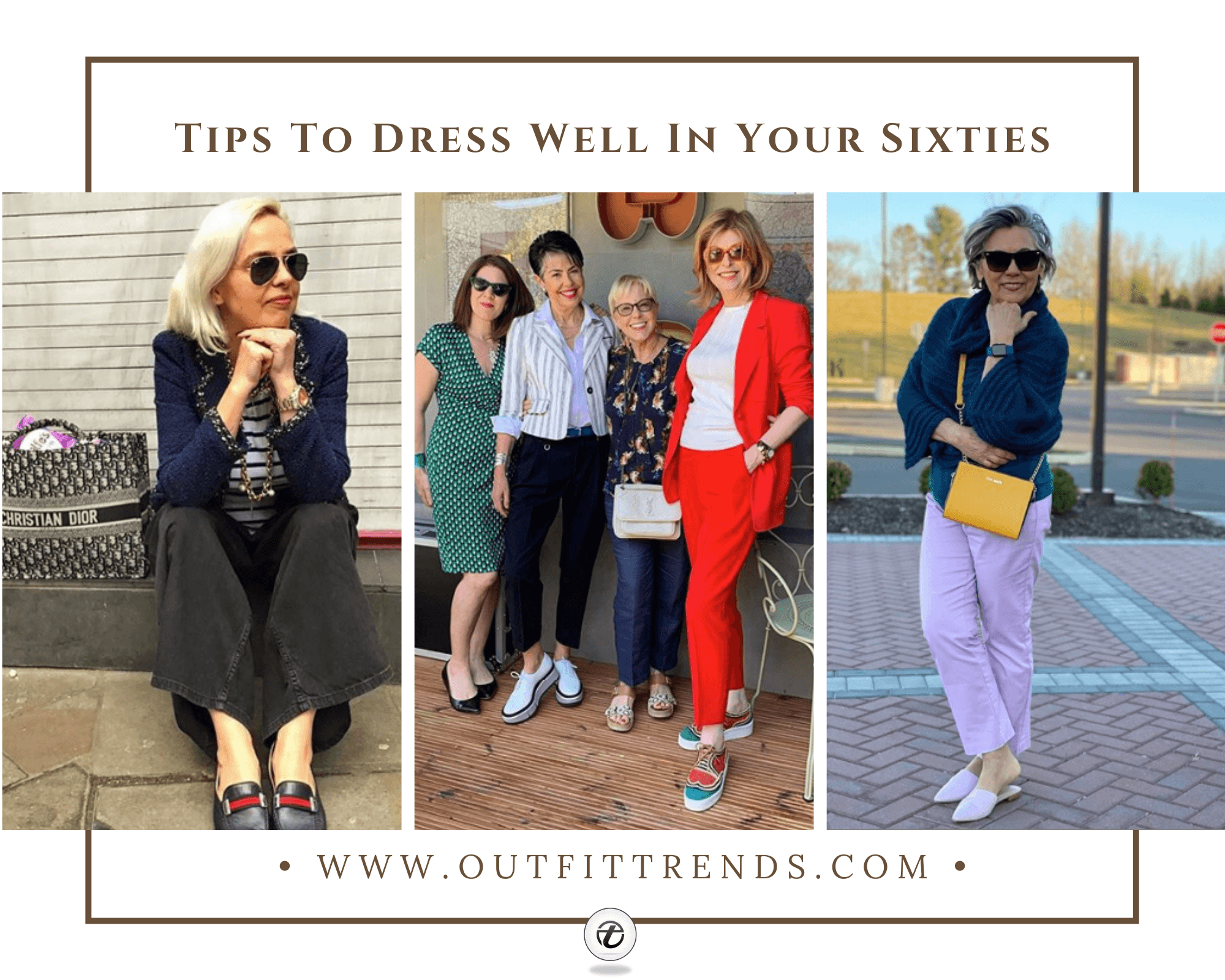 As a woman gets older she needs to learn what flatters her body shape and develop her own signature style. Her wardrobe should also include some quality, tailored investment pieces. These are wardrobe staples which can be mixed and matched, and accessorized to fit her own personality; allowing her to dip her toe into the latest fashion trends. A scarf in the print-of-the-moment, an up-to-the-minute statement necklace, a pair of fashionably-colored shoes or can update these investment outfits every season.
Paula Reed, in her book Style Clinic (Harper Collins 2009) indicates that women in their 40s should have a wardrobe ratio of 60:40, 60% timeless pieces (such as a trenchcoat or black pants) and 40% fashion-of-the-moment. As age increases, so should the investment pieces.
There are some die-hard wardrobe staples that never fail, whether a woman is in her 50s, 60s, 70s or beyond. Whilst the fickle world of fashion comes up with new trends every season, there are some truly timeless outfits which stay elegant across the decades, no matter what a lady's shape or age.
10 Classic Pieces for Older Women
Blazer — well-cut with character. Beware of looking too prim and stuffy.
Blue Jeans — well cut in a good quality denim. Darker colors are more slimming.
White Shirt — a classic cut that is fitted to flatter the silhouette. Keep styling simple as frills fussy embellishments can be ageing
Chiffon blouse — sheer chiffon looks flirty and feminine and allows show some flesh, whilst covering up arms. As long as delicate fabrics are worn with camouflaging underpinnings, a heavier fabric skirt or pants.
Pencil skirt — universally sexy no matter what the age. Make sure the hemline is no longer than knee length to avoid the frump factor.
Cashmere Sweater — ultimate glamour. Fitted sweaters are less ageing than baggy ones. Dark jewel colors look elegant on a mature woman.
Black Pants — a pair of tailored trousers are utterly timeless, go for a good quality fabric which hangs well.
Trenchcoat — a classic coat but always on trend.
Little black dress — a failsafe outfit which can be dressed up or down to suit almost any occasion. Alternatively go for a fitted dress with draping, which is elegant and covers a multitude of sins.
Long silk scarf — choose a quirky print that reflects the wearers personality or key trends that emerge almost every season such as floral, animal print or tribal. Wear it over a shirt, sweater or dress, or under a jacket.
No longer does a piece of clothing need to be age appropriate (within reason). A 60-something woman with great legs can still get away with a short pencil skirt (although opaque tights might be her new best friend) and a 50-something can still show off her cleavage in low-cut white shirt. Conversely, a 20-something may be fashionable in a tweed jacket (think 2009's houndstooth prints), whereas a 60-year old may appear too frumpy, and look chicer in a butter-soft leather biker jacket (as favored by 50-something Sharon Stone or 60-something Jane Fonda).
Whatever her age, a woman should buy what makes her look her best. What she wears should not be set by fashion rules related to her age but by the limitations of her figure.