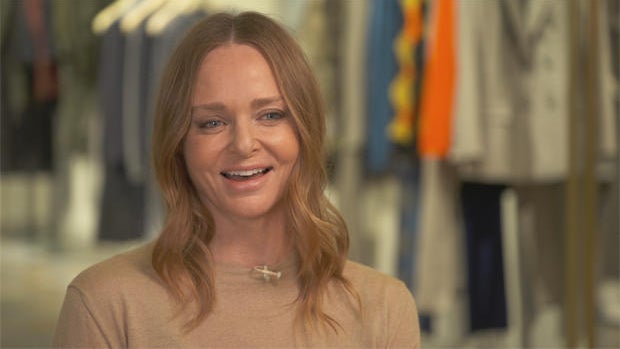 It was a media frenzy as a young McCartney gained notoriety for enlisting the help of her friends Kate Moss, Naomi Campbell, and Yasmin LeBon to tread the catwalk at her graduating fashion show at the famed Central St. Martins College of Art in London as Twiggy and parents, Linda and Paul, looked on from the front row.
While some might say that the success of Stella McCartney was a given due to her famous name, that sentiment pays little due to the genuine talent, distinctive look, and staying power of a woman who apprenticed with Christian Lacroix at just fifteen, and whose early career seemed to draw much more vitriol from critics and naysayers (mostly from within the fashion industry) than it did praise.
Indeed, the appointment by the Paris fashion house Chloé in 1997 of a then barely 25-year-old daughter of a Beatle as their chief designer did seem controversial, and most of the fashion press viewed it as a last-ditch attempt by the label to save their declining reputation with a famous name. Karl Lagerfeld, who once designed for Chloe, publicly derided the decision and the fashion world hung with bated breath to see if the musical gene could transfer to the world of fashion.
But the cynics were soon silenced as McCartney was able to rapidly increase sales by a vast amount and propel Chloe forward into the new millennium. Her influence revived the Paris fashion house back to the elite position it had held in the 1970s, as one of the most covetable brands on the market.
Stella McCartney Launches Her Own Label
McCartney ended her partnership with Chloe in 2001 and that same year founded her own label, Stella McCartney, in cooperation with Gucci. The look is what fashion author, Simone Werle, calls "a mixture of feminine neo-romanticism and urbane functional modernity." Fabrics and colours are at once delicate and flowing with details such as lace, then juxtaposed with finely tailored and slightly masculine cuts in the tradition of London's Savile Row. Today McCartney's label is sold in over fifty countries.
McCartney's Commitment to Green Living
It could be said that what sets McCartney apart from all her contemporaries is her dedication to a vegan lifestyle which doesn't exclude her work. She forgoes what would most likely result in increased sales by choosing to ban the use of leather and fur in her own line and in the designs of her sport collection for Adidas. Wind power is used as an energy source in her flagship stores and shopping bags are made of recycled paper. She also launched a 100% organic cosmetic line with Yves Saint Laurent in 2007.
The consistency with which she has upheld her cruelty-free values throughout her career is the same level of commitment which has seen her transcend any familial associations, become highly respected as a designer who produces a consistently high quality of work, and reach success in her own right.